Game Theory with Bomani Jones – Season 2
Watch Game Theory with Bomani Jones – Season 2, the Emmy-nominated series that takes a comedic look at the world of sports and entertainment.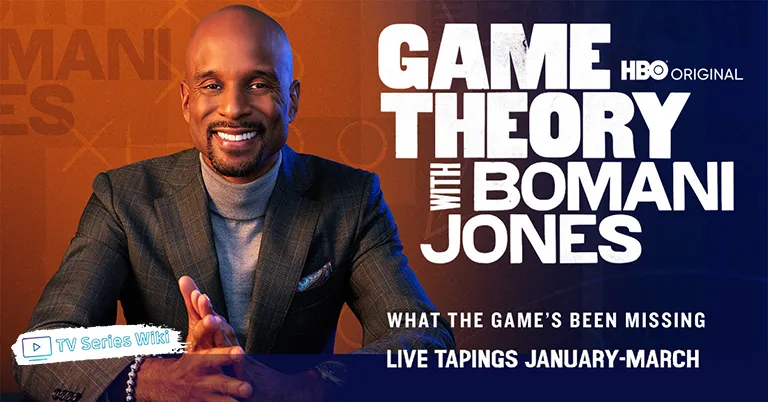 Through a combination of expert interviews and comedic improvisations, Bomani will tackle the hot topics of the day in season two of his Emmy-nominated series. The show has already featured guests including Tracy Morgan, Vince Staples, Stephen A. Smith, Roy Wood Jr., Roy Shuler, Dawn Staley and Mike Krzyzewski.
In season two, Bomani Jones will continue to ask hard questions and often provide unexpected answers. He'll explore the impact of racism in sports, analyze how money shapes our perceptions of athletes and teams, take a closer look at emerging technologies and new frontiers in training, discuss the mental health issues athletes face both on and off the playing field, and dive deep into the issues of gender parity in professional sport.
He'll also take his show on the road, with segments from iconic venues, in-depth interviews with athletes and celebrities, and conversations with sports legends. By combining unique perspectives, smart analysis, and thought-provoking insights, season two of Game Theory with Bomani Jones will provide viewers with a deeper understanding of the world of sports.
Be sure to catch season two of Game Theory with Bomani Jones when it premieres on January 20, 2023!
With his unique blend of expert insight and comedic improvisation, Bomani Jones is back for another exciting season of Game Theory. Get ready for an in-depth exploration of the issues facing professional sports today, from racism and gender parity to emerging technologies and mental health. Featuring interviews with some of your favorite athletes, celebrities, and sports legends, season two promises to be even more insightful than the first – don't miss it!
Premiere Date: January 20, 2023
Produced: Hyperobject Industries
Cast: Bomani Jones, Tracy Morgan, Vince Staples, Stephen A. Smith, Roy Wood Jr., Roy Shuler, Dawn Staley, Mike Krzyzewski, Michelladonna
Creators: Stuart Miller, Seth Weitberg
Directors: Edmond Hawkins, Ted Tremper
Writers: Sydney Castillo, Tommy Craggs, James Davis, Greg Iwinski, Bomani Jones, Stuart Miller, Rod Morrow, Morgan Murphy, Zachary Rice, Seth Weitberg
Executive producers: Edmond Hawkins, Elena Ridker, Marah Wilson, James Davis, Morgan Murphy, Bomani Jones, Adam McKay, Stuart Miller, Todd Schulman, Seth Weitberg